Events
Join us on June 28, 2018 for Sip of Summer!
Our summer theme party will feature tacos, cocktails, music, a raffle, and thrilling silent & live auctions.
$50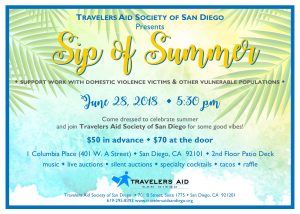 Our programs assist those in our community who lack safety nets; we provide counseling, referrals, and a variety of transportation options for victims of domestic violence, low-income seniors, homeless individuals and families, and many other vulnerable populations. Please support us with your attendance and your much appreciated donations.